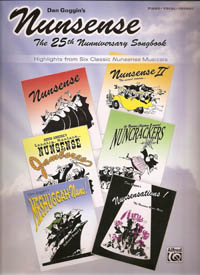 Nunsense Anniversary Songbook
Songs from six Nunsense Shows in a 25th Anniversay Songboook.
Availability: Orders are shipped on Tuesdays and Thursdays
Ships from and sold by Nunsense!

Product Description
The "Nunsense 25th Nunniversary Songbook" features 168 pages of songs from six Nunsense Shows with photos and stories. Shows include: Nunsense, Nunsense II, Nunsense Jamboree, Nuncrackers, Meshuggah-Nuns, & Nunsensations.